April 7, 2017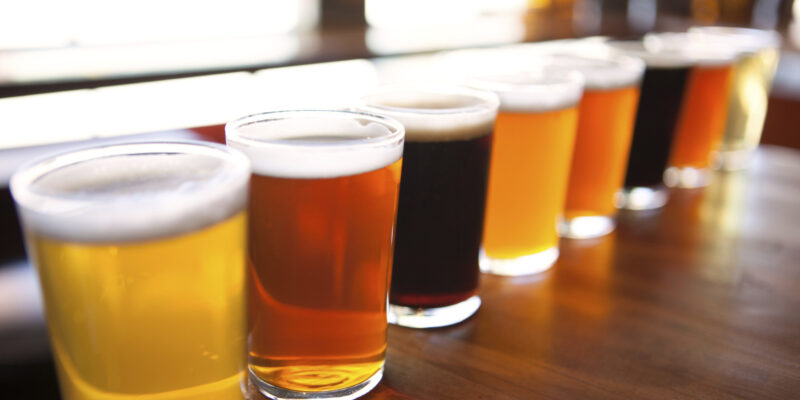 It's National Beer Day once again! Time for another survey of some of the finest Iowa craft beers I've had the pleasure of tasting in recent months. With so many great local brews to choose from, it gets harder and harder to keep this list short. Again, some of these may be in short supply, so if you can't get your hands on these I've included selections that should be easier to come by.
Carpe Diem — Mahdouse Brewing Company, Des Moines
A welcome yearly released bourbon barrel-aged Imperial Stout with cocoa nibs, Kona coffee, and barrel-aged maple syrup, this beer feels like a decadent
Sunday
brunch in a glass. Thick and just a bit sweet, this one's not just for breakfast, but you may need a nap afterward as it clocks in a
13
%
ABV
.
Consolation prize: El Jefe barrel-aged Mexican Stout
Lutris — Alluvial Brewing Company, Ames
This American Pale Ale is one in a series of Alluvial SMaSH beers (Single Malt and Single Hop), featuring Citra hops and Marris Otter malt. Lots of citrus on the nose and tongue, backed up well by the malt to give it good mouthfeel and keeping the bitter in check.
Consolation prize: Helix
IPA
Jesus on a Forklift — Exile Brewing Company, Des Moines
An Imperial Rye Stout, this was aged for a year in Cedar Ridge Rye Whiskey barrels. The base beer brings a good deal of sweet chocolate to the table to balance out the whiskey. The result is pleasantly devoid of most of the heat the rye barrel could impart and makes for a smooth drinking experience. Their cask conditioned variant, Jesus on a Coconut, was aged an extra
4
months on
150
pounds of coconut. Good stuff.
Consolation prize: Sir Moch-A-Lot
Unholy Trinity — 

515

Brewing, Alluvial Brewing, Pulpit Rock Brewing
Unholy Trinity is the love child of three Iowa breweries in collab­o­ration. A hazy Wheat Pale Ale made with four types of wheat, the real stars are the Mosaic, Columbus and Cascade hops. Dank, yet oh so easy to drink and gone altogether too soon. Hopefully one of the breweries stashed a keg away for a rainy day.
Consolation prize:
515
Brewing Mediocrè Pale Ale
Richard the Whale — Big Grove Brewery, Solon
Richard is a big, bold bourbon barrel-aged Russian Imperial Stout with tastes of dark chocolate and vanilla with lots of bourbon flavor remaining. The booze tends to come across a bit more in this one than the other aged beers on the list, while clocking in at around
11
%
ABV
. This beer has an amazing mouthfeel that makes you almost want to swish it around gargle with it. Big Grove tends to do a lot of variants of this, such as coffee, hazlenut and praline. Whichever you get, make sure to let it warm up to get the full flavor.
Consolation prize: Que Sera Berliner Weiss
Bonus round:
While there are lots of new breweries in various stages of planning and construction, I'd like to feature some those existing breweries that are expanding their reach in the state with very cool second (and third) locations.

Peace Tree - the recently opened Des Moines branch in the East Village is a great place to hang out and will also be the location of Peace Tree's sour beer program. Peace Tree will also be opening a third taproom in Grinnell later this year.
Big Grove - Big Grove brings the great ambience of the Solon location, along with great food, to a somewhat more accessible Iowa City address.
Backpocket — Backpocket's Pilot Pub has taken up residence in Cedar Rapids and serves as a pilot system for Backpocket to test out new creations and small batches. Backpocket will soon be opening another taproom in a large renovated space in the Dubuque Millwork district.
Got a favorite that's not on the list? We'd love to talk about it, or better yet, get together to sample one or two.