July 11, 2013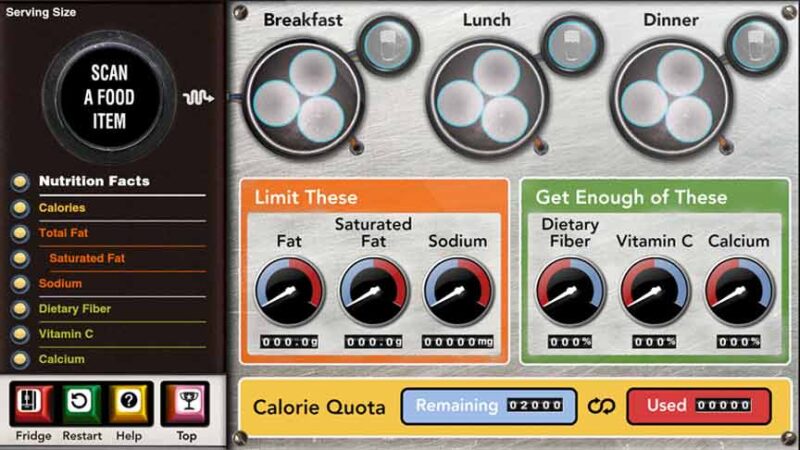 Seattle's Pacific Science Center launched its new 7,000-square-foot Wellbody Academy exhibit in December 2012. The exhibit is packed full of interactives showing visitors how everyday choices affect their health and encouraging them to be proactive in pursuing a healthy lifestyle.
Amaze Design in Boston worked with PSC to concept this unique exhibit. Group Delphi from Alameda, the exhibit fabricator, selected Applied Art & Technology to bring selected interactives to life:
The Food Analyzer creates a fun, immersive experience encouraging visitors to consider the nutritional value of foods before including them in their daily diet.
Visitors pick food and drink items from double-tiered, L-shaped conveyor to assemble a daily meal plan. Food options are represented by puck-like discs, each embedded with a unique RFID tag.
Scanning a food at one of the four meal-planning stations reveals its nutritional value and allows the visitor to decide whether the food should be included in their daily meal plan. Real-time gauges and meters indicate how well the meal plan scores in nutritional value.Visitors who choose wisely are entered into Hall of Fame.
Sleeping in Seattle tracks and displays visitor sleep patterns by age and hours slept , showing results on a large LCD monitor. Visitors use pushbuttons and knobs to enter their age, number of hours slept the previous night and whether they felt rested when they awoke. Pressing the Enter button saves the information in a database.
The system then compiles the results of all visitors for that day, the last thirty days, six months, or a year. Trends in sleep habits appear to show the average number of hours required at each age where the visitor felt rested.
The interactives are integrated into the overall Wellbody Academy control system that provides scheduled startup and shutdown for all the electronic activities in the Wellbody Academy. Applied Art can remotely connect into each interactive for troubleshooting and support, if needed.