Video Production | Des Moines, Iowa
---
We believe video has the power to change lives.
Based in Des Moines, Iowa, Applied Art & Technology is a creative digital studio and video production company with over 25 years of video production experience.
Who We Are
Video Production Experts
---
Sure, we're camera nerds. Film geeks. Creative souls. And editing whizzes. But we're also savvy storytellers with an acute understanding of viewer expectations and audience intent.
In other words, we don't just script, shoot and edit eye-popping videos (although we definitely do that too). We also use proven marketing techniques and effective storytelling.
This means our videos do more than just look pretty (although they definitely look pretty). They go above and beyond to accomplish an objective, communi­cating your desired message in an impactful and memorable way.
Video Production Specialties
---
We apply the best elements of video production and digital marketing to every project, creating unforgettable videos through top-level production and strategic storytelling. We specialize in videos for:
advertising • annual reports • broadcast commercials • case studies • corporate • customer testimonials • digital marketing • interactive content • live events • pre-roll • public relations • social media • trade shows • training • virtual events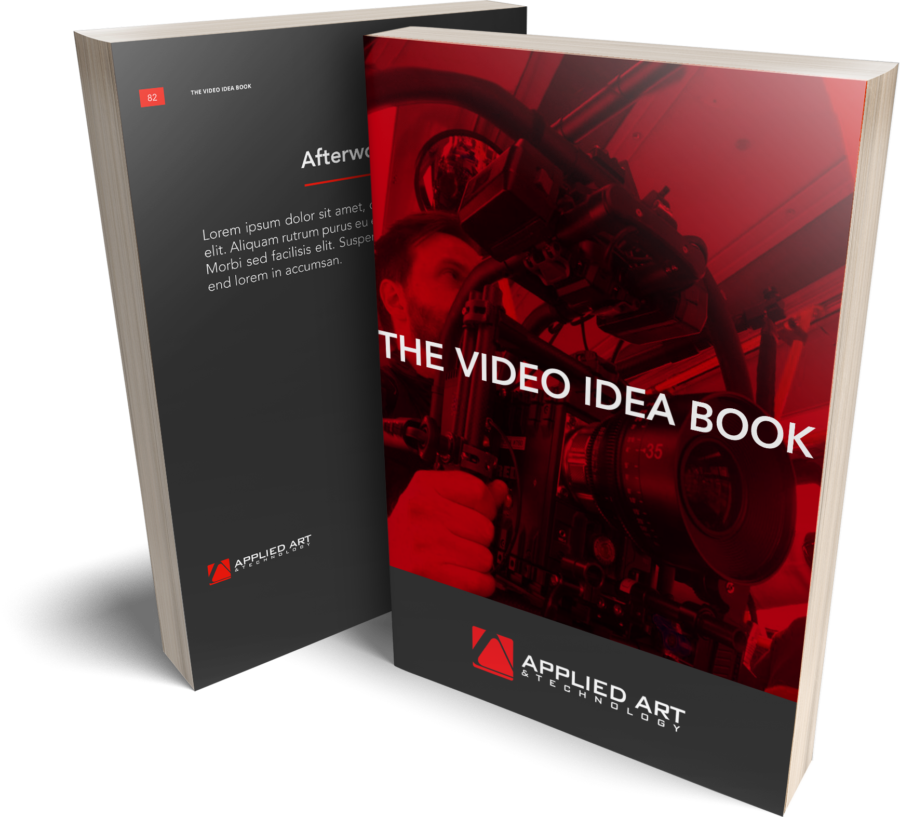 We wrote the book on video.
---
As a creative digital studio with over 25 years of video production experience, we know a thing or two about video marketing. In fact, we wrote the book on it!
Download our free 88-page Video Idea Book and discover 50 ways you can use video marketing to connect with your customers.
Let's Get Started
Full-Service Video Production | Des Moines, Iowa
---
We understand your need to stay ahead of the competition with new and engaging ideas, and we've adapted to (and even predicted) countless industry trends since our first shoot in Des Moines, Iowa over 25 years ago. In other words, we evolve. And our videos evolve right along with us.
Since then, we have seen ourselves grow into the leading digital studio in the Des Moines and central Iowa area. Best of all, we're just getting started. Our mission is to provide top-of-the-line, award-winning video production services across the state of Iowa, the Midwest, and beyond.
If you need a quote or have questions related to video production, please visit our Contact page or call our Des Moines, Iowa studio at 515−331−7400.
We have a lot of experience in video production — 25 years, to be exact.
As an industry-leading creative digital studio, we've produced some of the most memorable and innovative videos to come out of Des Moines, Iowa and, indeed, the Midwest. From broadcast TV spots and corporate videos to digital marketing that can be used on multiple channels, we'll create a video that will get the results (and views) you're looking for.
Hungry for a taste of what we're all about? Check out our video production reel:
We're proud to say that we boast the best video tools on the market, as well as the most experienced videog­raphers, producers and editors in the Des Moines and central Iowa area. Our RED camera can capture images in stunning 8K resolution, and our video production team will make sure that every one of those 8,000 pixels count.
Creative Collaboration
We can take on a video project at any stage and create something truly memorable and powerful. We'll help concept your idea, organize the shoot and recruit the talent. Then, we'll take care of all the shooting, lighting, directing, editing and graphics — so you don't have to.
Brand Visualization
We start by looking at your project from a holistic standpoint. We first gather a palette of creative elements that best unifies your vision. This includes the video concept, music, color grading and graphics. By having your aesthetic vision established, we can then focus on crafting a compelling story that will connect with your audience and communicate your value proposition. After all, we don't just want your video to look pretty; we want it to get results!
Teamwork
Our video production team will work closely with you to understand your business objectives at the outset. It's important for us to be in regular communi­cation and to share immediate feedback as your video takes shape so that there are no surprises. But don't worry! We promise we'll do all the heavy lifting.
Soundstage
Based in Des Moines, Iowa, our world-class digital studio features a 3,000 square foot soundstage. Our soundstage comes equipped with extensive soundproofing, green screen technology and a host of other capabilities to bring your vision to life.
Lighting/​Camera
We have nearly every light under the sun at our disposal — including the sun! We also know how to make a camera move just right. Our video production team is experienced with the best dollies, tracks and gimbals on the market.
Edit Suites
With three fully-equipped suites in Des Moines, Iowa, we can accommodate on-site or remote edits throughout our post-production process.
Case Study | Greater Iowa Credit Union
---
We know what it takes to create a video that is not only eye-catching but gets results.
But don't take it from us. We'll let John Kenjar, VP of Marketing & Public Relations at Greater Iowa Credit Union, explain how our ​"Walking Dead"-inspired video went viral. As a result, our video led to record engagement for the credit union in the Des Moines and central Iowa region.
Frequently Asked Questions
Our project managers and creative team will guide you through the process. You can be involved as much or as little as your schedule allows. We've done this a lot — it's what we do!
We do a lot of different things — pretty much anything that ends up on a screen. That includes video production, post-production, color grading, animation, graphic design, website development and design, interactive exhibit design and production and live event AV production. We also have experience with virtual reality and 360-degree video production. We house a registered DJI Inspire 1 drone with separate controls for a cameraman. Plus, our team includes a FAA certified drone pilot for aerial videography. If your project needs anything not on this list, ask us — chances are we can do it!
That depends. Each project is unique, and we need to understand your project goals before we can provide a cost estimate. Let's talk!
That depends. Each project is unique and we don't have a template we recycle for each client. We prefer to meet with you to learn the project goals and then we will provide a timeline and next steps.
We edit in several formats, including Final Cut Pro, Avid and Première. We carry out color grading in DaVinci Resolve. We archive all projects in case you need to update your video in the future. We also output to any video file format you need.
We do! We have a 3,000 square foot soundstage with a cyclorama wall to create an infinite background. Our soundstage was engineered to dampen sound and was designed as a room within a room. Tall double doors allow for pulling a truck right onto the stage.
That depends. We will be good stewards of your budget and hire the size of crew that fits best with your project. We prefer to have a dedicated sound person and make-up person when possible.
We use a Red Epic Dragon to shoot most of our projects, and the still photography cameras we use vary depending on the project needs.
We are a full-service facility complete with variety of gear. Our three-ton grip truck holds just about everything you would need for location production, and our state-of-the-art soundstage gives us complete control over in-studio shooting. We also rent vehicles as needed.
Soundstage | Des Moines, Iowa
---
Our state-of-the-art soundstage has 3,000 square feet of customizable space for shooting, the only one of its kind in the state of Iowa.
Located in Des Moines, Iowa, our soundstage was engineered as a room within a room and dampens sound in several ways:
Custom designed sound blocks make the walls and non-parallel walls

Acoustical isolation joints between the floors, walls and roof


12

inches of concrete on the roof block, which block out outdoor sounds.

In addition to these acoustical features, our soundstage includes a curved cyclorama wall to create a seamless, infinite background that has been painted almost every conceivable color at this point. Our tall double doors make it possible to pull a truck right onto the soundstage, and the high volume/​low velocity HVAC is designed to work quietly during shoots, regardless of the number of lights used on set.
800 amps of power are available to power any shoot, and an adjoining make-up room and green room add to the convenience of shooting on our soundstage.

Want to Learn More about Video Marketing?
---
Still unsure about how video production fits in your own marketing plan? Not to worry. We literally wrote the book on video marketing!
Click the button below to download our free 88-page Video Idea Book and discover 50 ways you can use video marketing to connect with your customers.