Live-Streaming a String Quartet? Music to Our Ears.
October 23, 2020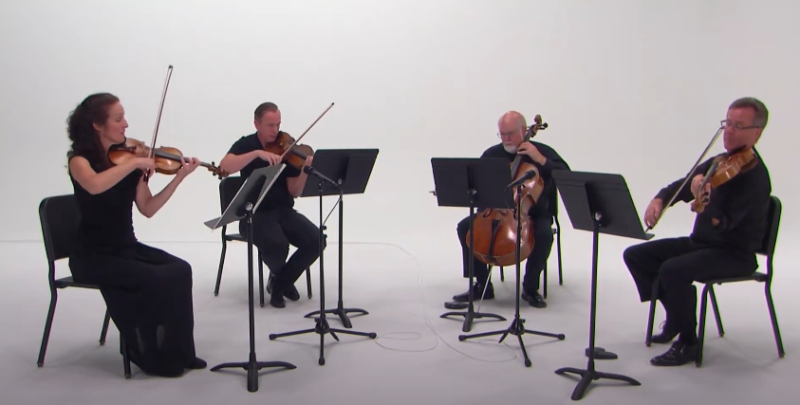 01

/​

05

Project Background

This year, the Civic Music Association (CMA) celebrated the 21st anniversary of the Belin Quartet. The group is a string quartet based in central Iowa that performs live summer concerts in various public venues.
This summer presented a unique challenge for the quartet, however, with the coronavirus pandemic forcing the cancel­lation of their planned public performances.
Undeterred, CMA searched for alternative options to continue the concerts, while priori­tizing their audience's safety.
02

/​

05

Our Solution
Seeking a profes­sional solution, the CMA board came to Applied Art. After discussing several options, the decision was made to live-stream the quartet's 10 weekly concerts on Facebook and YouTube from the Applied Art sound stage.

With a multi-camera setup, on-set audio engineers and a full production crew, we were able to transform the quartet's perfor­mances into a seamless and slickly-produced live stream. This virtual pivot allowed CMA's audience to tune in every week and enjoy live, classical music from the comfort and safety of their homes.
In addition to the on-site production, our in-house digital artist designed an original animation that introduced every live stream. A preliminary musical selection would follow, leading into the quartet's main performance. Following that, a closing animation would end the live stream, which would typically last 45 to 60 minutes in total.
See below for one of the 10 virtual concerts, now available to watch on YouTube.
03

/​

05

The Benefits
By going virtual, we gave CMA listeners and music lovers the ability to safely ​"attend" the concerts from anywhere with an internet connection. This meant our virtual concerts were not only safe; they were more convenient!

Virtual perfor­mances offer other distinct advantages, too. For one, shooting in a sound stage eliminates the threat of inclement weather at outdoor venues. It also removes the headache of booking different venues and testing audio quality in each location.
Our dual-platform solution also gave CMA the benefit of social shareability. Viewers could recommend others watch by ​"sharing" the live stream on Facebook, YouTube or both!
During the live streams, viewers often commented on the profes­sional-quality video and audio, which many said made the concerts more enjoyable, even when compared to an in-person event.
Keeping viewers (and potential donors) engaged week to week also brought tremendous value to CMA, when it came to building brand awareness and audience loyalty.
04

/​

05

Our Results
The concerts were a hit, seeing up to 50 attendees on both platforms during each live stream and dozens more watching the replay recordings. The live streams often had as many, if not more, attendees than the quartet's in-person summer concerts from past years.

Between the two streaming platforms, CMA has a larger following on Facebook, and it showed, as that platform's live stream often generated more comments. Engaged viewers would routinely start a dialogue, commenting on the perfor­mances and connecting with each other.
Perhaps most importantly, our live stream helped CMA reach a younger and larger online audience — a key metric for associ­ations who wish to expand their membership to future generations.
05

/​

05

Our Client's Reaction
Transitioning to a Virtual Concert w/​ Civic Music Association from Applied Art & Technology on Vimeo.
"The team at Applied Art & Technology have gone above and beyond to ensure that our concerts look great and sound great. Their expertise in broadcasting live streams has really allowed our organi­zation to shine. We are a small nonprofit concert presenter with limited experience with video content. Our online presence has soared thanks to this partnership. We are reaching a younger and larger online audience, which we hope will translate over time to a younger and larger in-person audience once live concerts can happen again."

— Peter Stevenson, Executive Director, Civic Music Association
Want to learn more about virtual events? Read about our virtual event planning capabilities here.