October 23, 2018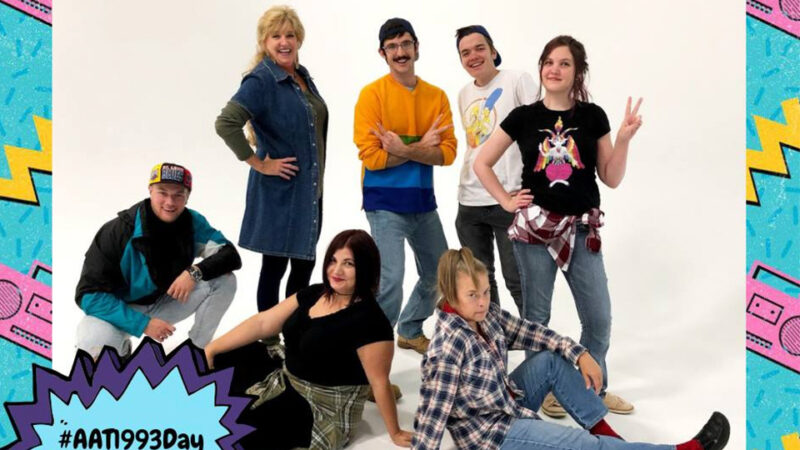 If you've been following us on social media, you probably noticed we celebrated our 25th Anniversary in September! Applied Art & Technology was founded in 1993 (a few months after the internet was born!) by four communi­cation profes­sionals. We started as a video production company working with a range of clients, and have evolved into a creative digital studio that works with our many clients tell their stories in an inventive and powerful way. To celebrate our evolution, we decided to go back to our roots: the 90's. It was truly all that and a bag of chips. (Oh, 90's slang we miss you.)
To kick things off, we held a 90's photo contest for our followers on social media. We asked our followers to post pictures of themselves from the 90s. Many good natured Applied Artisans also joined in with snaps ranging from preppy rugby shirt to Mom Prom levels of embarrassment. Ultimately, the winner of our photo contest was Erin Timmons for rocking a bowl cut. And nothing beats a bowl cut. Nothing.
Next up? 90's trivia! We rewarded several Facebook fans with a 90's themed gift basket complete with slap bracelets, Pokémon cards, candy, Goosebump books, and most importantly… a Beanie Baby. We paid homage to our favorite 90s hits from the small screen by dressing up and recreating the famous photos. Seinfeld, Friends, The X‑Files, and Full House were our top choices.
To save the best for last, we had a 90's themed (of course) potluck as one last hoorah and to say Bye, Bye, Bye to the 90's. We're not trying to brag, but it was pretty bomb. Starter jackets were worn, flannels were tied around our waists and brown lipstick… got all over everything. We took a picture to commemorate and also decided it will be the cover for our debut album.
Overall, it was a wonderful experience to celebrate our achievements and accomplishments over the past 25 years. Thank you to our clients, customers, friends and family for sharing this milestone with us. We started with four founders and now have a team of 25. Our business has grown beyond video production to marketing programs, interactive digital experiences, and so much more. But one thing remains the same after these 25 years and that's storytelling. Technology changes and evolves, but the story is our main focus. While it was fun to look back, we now look ahead to the future.
Here's to another 25 years!
For tips on all things digital, follow us on Facebook!