December 1, 2015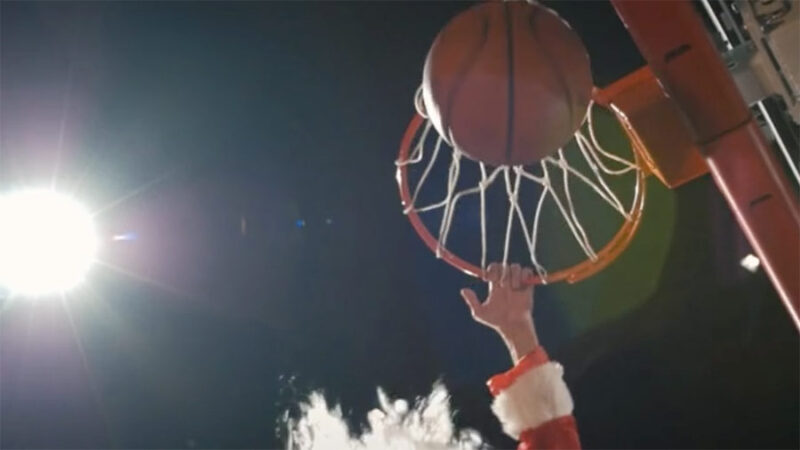 Here at Applied Art, we enjoy sharing the ​"story behind the story," every now and then. Here's a glimpse ​"Behind the Hoopla."
The opportunity to partner with Strategic America and The Iowa Lottery Authority is always one we enjoy. The concept was to showcase Santa shooting hoops at Wells Fargo Arena since tickets to the college men's basketball tournament there next March were prizes in the lottery promotion. In theory, it sounded somewhat simple. Just put a guy in a Santa suit and have him shoot some hoops. Easy right?
First we had to find the perfect Santa: a guy who has expert basketball handling skills, finesse, and shooting abilities, all while wearing a full Santa suit complete with hat, beard, and padded belly.
Mike Born (Iowa State Cyclones ​'87 — ​'89) was contacted because we thought he might know some guys with the skills we needed. Mike is a scout for the Charlotte Hornets and lives in nearby Norwalk. The more he heard about what was needed for the role, the more he was sure that he was the guy for the job. Turns out Mike had more basketball handling tricks than we could even show in two spots plus a ​"Behind the Hoopla" video. And his dunk…amazing right? Check out the video to see how we made it come to life.
"

We have heard so many positive things about this spot from our staffers and friends. It has really resonated with folks." Teri Wood TeBockhorst,

VP

Marketing, Iowa Lottery Authority
With Santa cast, it was time to focus on the shoot. Our plan was to do the entire shoot at Wells Fargo Arena. However, the basketball floor wouldn't be available for our production due to hockey and concert commitments in the arena that week.
"How do we show Santa's sweet skills without showing the floor?"
The solution? We filmed all of the ball handling close-ups where the floor is visible at the Iowa Fire's practice facility. Then we headed to Wells Fargo Arena for the dunk scene. Clever camera angles did the rest and our effects artist digitally added the basketball floor at Wells Fargo Arena for a couple of the graphic backgrounds. Everything came together and the end result looks fantastic and festive.
We hope you enjoy this little glimpse of what went into ​"Holiday Hoopla," and as always, we're thankful for the opportunity to work with Strategic America and The Iowa Lottery Authority.
Meet ​"Santa" on KCWI's Great Day.