June 1, 2022 | How to Achieve Real-World Success with Virtual Events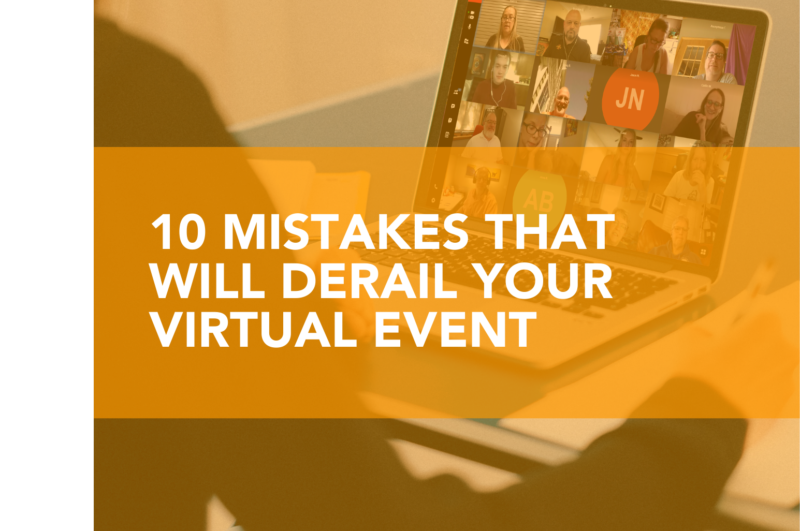 So you're planning a virtual event?
Virtual events are tough, especially if you've never done one before.
Fortunately, we at Applied Art & Technology have an abundance of experience producing in-person, virtual and even hybrid events. Since the summer of 2020, we have produced over 30 virtual or hybrid events with 20 different clients (and counting!).
With so many moving parts, we wanted to help event organizers avoid the most common mistakes that derail virtual events. Below are five of the 10 mistakes we've identified (all 10 are available to read in our 10 Virtual Event Mistakes PDF).
1

. Poor User Experience

Too many steps. Unwieldy navigation. Ineffective tech support.

These are just a few of the many factors that can negatively impact your attendees' user experience.

Your virtual event platform and show flow need to be designed with your attendees in mind. You want attendees to be able to get around the event site and find what they are looking for with minimal effort.

This will result in a better event experience that feels more profes­sional and intentional.



2

. Presentations that Don't Engage

We all know what it's like to sit through a lackluster sales presen­tation or keynote speech. It's the easiest way to cure insomnia!

All kidding aside, keeping an audience's attention is tough enough in person, which means virtual presen­tations must be that much more engaging.

To prevent your attendees from falling victims to nearby distractions, book engaging speakers to present inherently interesting and relevant topics.

As always, visual aides can be a big help. Your speakers should mix in slides with their camera view, as well as interactive cues like polls and Q&A's to maintain audience interest.



3

. Lack of Rehearsals

The old adage ​"if you fail to prepare, you prepare to fail" carries particular weight in virtual event planning.

Failing to schedule adequate rehearsal time and show flow reviews will add unneeded stress for all those involved in your virtual event.

Practice, practice, practice. At Applied Art & Technology, we schedule a minimum of two rehearsals before the day of the event. In addition, we have dedicated teams to assist in onboarding event organizers, getting them up to speed on the technology and software involved.




4

. Fear of Monetizing

We are living in a new frontier of virtual events, which means there is still plenty of uncertainty about the value of this new medium. Your virtual event is competing with free video chat software, which means you'll have to convincingly answer the following question: ​"Is your event worth the price of admission?"

The short answer is YES!

If you are delivering value to your audience just as an in-person event would, your organi­zation should be charging admission to access this value.

Virtual events present unique opportu­nities for moneti­zation, including admission, sponsorships, vendor booths and replays.



5

. Using the Wrong Software

"Why don't we just use Zoom or another free platform?"

Valid question.

Basic video chat platforms are great for micro-meetings of 10 or fewer people. However, once an event requires over 60 minutes of session time, pay gates, breakout sessions, virtual networking, user analytics and other more robust features, it's time to seek a platform specif­ically designed with large-scale meetings in mind.

Not to mention the fact that Zoom and other free platforms are often plagued with audio issues. Knowing this, why would your attendees feel inclined to pay for a Zoom call, especially if they can already access that software for free?

Hosting your event on a more feature-friendly platform will increase value perception from attendees and justify the price of admission.