September 23, 2020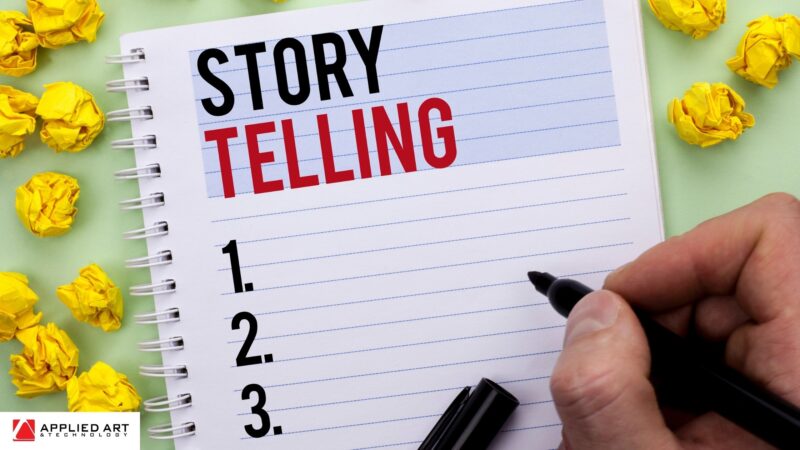 It's no secret that everyone loves a good story.
Why?
Because stories are universal. They stimulate your imagination, appeal to your emotions and, ultimately, create connection.
But what makes a ​"good" story? It's not as easy as it seems.
Most people would say a ​"good" story is:
Memorable: It sticks with the reader long after the story is over.
Universal: It's relatable to anyone who reads it.
Entertaining: It keeps you engaged and leaves you wanting more.
Every brand has a story to tell. Telling a story helps you connect with your audience in a format they actually prefer. In fact, 92 percent of consumers say they want brands to create ads that feel like a story.
But I have to be honest with you, reader.
When I first sat down to write this article, I thought I knew what storytelling was and attempted to explain how to tell a ​"good" story.
However, you don't always have to get your point across by explaining something. You can also show it…and ​"show, don't tell" is one of the cardinal rules of effective storytelling.
So, without further ado, I'd like to show you three ad examples that I feel tell their story in a unique and memorable way:
1

. Nike: Just Do It (

1988

)
This is the first time Nike used the ​"Just Do It" phrase. It doesn't feature a famous top athlete but rather focuses on an unlikely hero, 80-year-old Walt Stack. Every morning, he runs 17 miles, even during the winter months. How does he keep his teeth from chattering? You'll just have to watch and find out. The ad perfectly captures the phrase ​"Just Do It." It empowers and motivates the viewer, reminding them that they can reach their goals with hard work and perseverance.
2

. Apple: Think Different (

1997

to

2002

)
Twenty-three years ago, Apple launched the iconic ​"Think Different" campaign. This ad features black-and-white footage of iconic 20th-century person­alities, such as Albert Einstein, Martin Luther King Jr. and John Lennon, to name a few. It was an instant hit and still resonates today. Why? Because it creates an emotional connection with universally-beloved figures and inspires you long after the ad is over. It celebrates the rebels, people who dare to stand out, those who ​"think differently." Those who ​"think differently" have bold ideas, and those ideas can change the world. This boldness makes Apple stand out among competitors, and is a key reason for the brand's continued success and innovation.
Note that neither of the two ads above feature their products, but they still manage to inspire you to buy what they're selling.
3

. Snickers: You're Not You When You're Hungry (

2010

)
Of course, I had to include a personal favorite ad of mine. This ad features the iconic Betty White attempting to play football (badly) until she eats a Snickers and is magically cured of her (his?) hunger. Ten years later, and the ad still makes people laugh. It's highly entertaining and universal, as everyone can relate to the phrase, ​"You're not you when you're hungry."
I hope these ads have inspired you (and made you laugh) with their memorable, universal and entertaining stories.
There's no denying that storytelling takes time, but it's worth it for both your business and your customers. Just be sure to avoid these common storytelling mistakes:
Remember that the quality of your story matters. No one likes a lackluster story. Engaging stories occupy a place in the viewer's mind that resonates long after it's over.
There's always a purpose behind telling a story, and businesses must remember to include an action statement. This usually occurs at the end of the story — for example, Nike's ​

"

Just Do It" slogan at the end of their ad. It's simple yet effective and inspires the customer to buy their product.
To sum up, strive to make your story engaging, universal and entertaining. But most important of all: have fun.
Let us help you tell your story! Connect with us at ideas@​appliedart.​com.